The vertical metal baler is also called recycling baler, vertical hydraulic baler and so on. It uses the hydraulic principle to compress the waste metal raw materials, so as to save space and facilitate transportation. Because this machine can be used to deal with a variety of materials, suitable for compressing straw, wool, peanut shell, hops, leather, clothing materials, waste paper, waste plastic, waste metal, cans, etc., it is also called multi-functional hydraulic baler.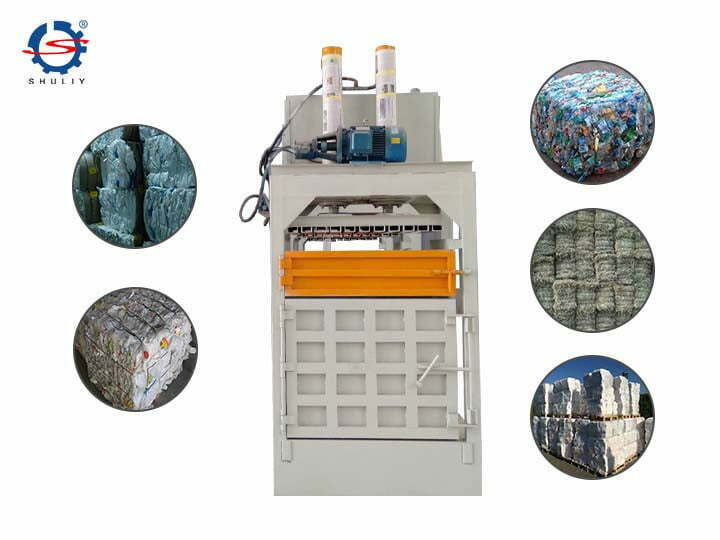 Structure of vertical metal baler
Fuselage. The fuselage includes a base plate and two movable front and rear side baffles. According to the different production capacity of the machine, the number of rope grooves on the machine floor is also different.
Upper baffle. The upper press baffle is directly above the machine feed bin. When the machine is running, the upper baffle plate is driven down by the hydraulic system, which continuously compresses the space inside the feed bin and compresses the materials.
Hydraulic system. The hydraulic system is the central system of the machine, which is composed of the pipeline, oil tank, hydraulic pump, valve, etc. to provide power for the work of the machine.
How does recycling baler work?
First put all kinds of waste (waste metal, plastic bottles, waste clothes, etc.) into the feed bin. Turn on the machine switch, and the upper baffle will gradually lower, compressing the material into a compact cubic bundle. After the machine finishes its work, open the front and rear baffles, and use iron wire, rope, cloth strips, etc. to bundle the compressed material firmly to ensure its compact structure.
What's the difference between a vertical metal baler and a horizontal one?
Generally speaking, the horizontal baler has a larger output, and the processed materials do not need to be tied with a rope. When processing large-density and large-volume materials, vertical metal balers are generally used. However, vertical balers are more widely used. What's more, the floor space of the vertical metal baler is small.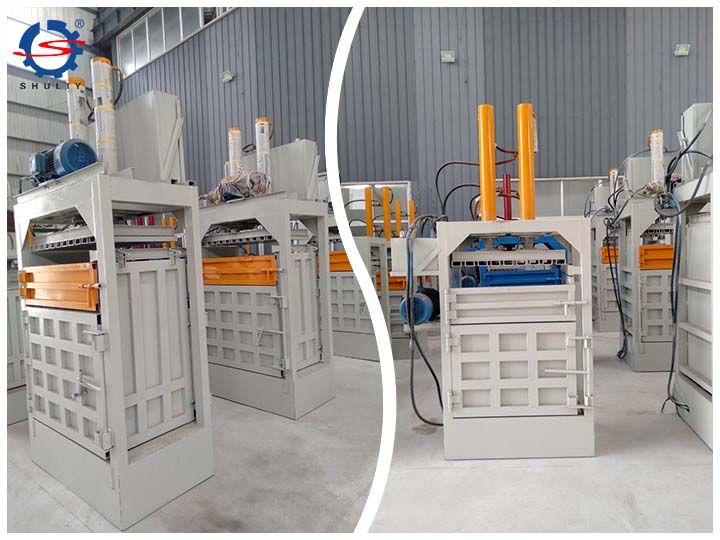 Features of Recycling Baler
1. Widely used.
It can be used to compress agricultural waste, such as straw, peanut shell, cotton, etc.
It can be used for the packing of livestock materials, such as hay, wool, etc.
Packaging of industrial waste, such as various plastic products, plastic bottles, plastic films, metal scraps, aluminum cans, iron buckets, etc.
2. Save space. On the one hand, the machine has a small footprint and does not require much space to use the machine. On the other hand, compressed materials can save storage space.
3. Wide selection. The pressure range of the machine is between 10 tons and 200 tons. During this range, customers can choose according to their needs.
4. Corrosion resistance. Some wastes may contain corrosive liquids and materials. The machine is made of thickened material and coated with anti-corrosion paint.
5. Support customization. Customers can customize the output block size, machine size, pressure size, etc. to facilitate furnace melting, transportation, etc.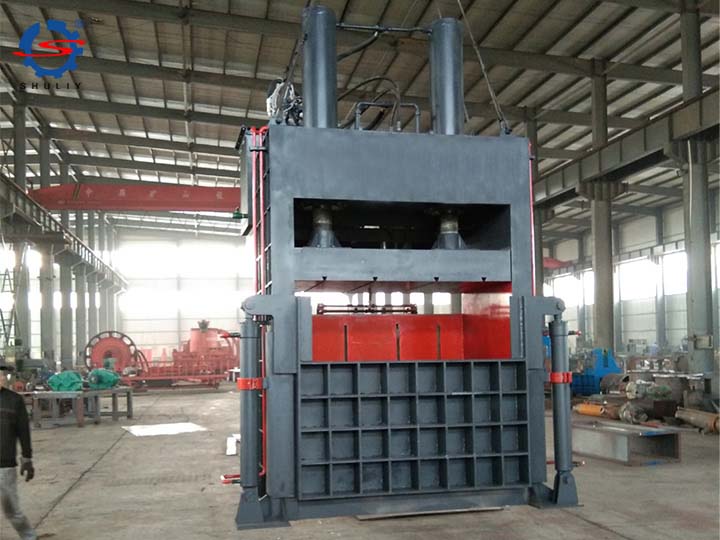 Technical parameters of vertical metal baler
Type
cylinder diameter
Power(Kw)
Block size
Machine size
Block weight
Machine weight
Single hydraulic lever
10T
115
7.5
80*40*80
1.5*0.7*2.7
130
500
20T
140
7.5
80*40*80
1.5*0.7*2.8
150
550
30T
160
11
80*40*80
1.5*0.7*2.8
200
600
30T
160
11
80*60*80
1.5*0.85*2.8
260
650
30T
160
11
100*60*80
1.75*0.85*2.8
300
700
40T
180
11
100*60*80
1.75*0.85*2.8
350
750
Double hydraulic lever
30T
115
11
100*60*80
1.75*0.85*2.8
300
700
40T
140
11
100*60*80
1.75*0.85*2.8
400
800
60T
160
15
120*80*100
1.7*1*3.2
600
1300
80T
180
18.5
120*80*100
1.75*1.1*3.3
800
1450
100T
180
22
120*80*100
1.75*1.1*3.3
900
1600
Please follow and like us: